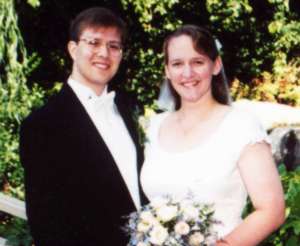 I met Kim Yarbrough very early in my time at Harvey Mudd; her freshman room was almost right upstairs from mine in East Dorm. After many years of close friendship and over two years of being engaged (you can even read the story of how we got engaged), we finally got married on July 30, 2000. I know it's a cliche, but we're just as happy and in love now as we were then; I still feel like a newlywed sometimes.
Our wedding was held at the Japanese Garden at California State University, Long Beach. It was a beautiful location for a beautiful ceremony (or so we've been told, though everyone probably says that about weddings). My best man was Ben Elgin, with groomsmen David Bunde and Geoff Finger; Kim's maid of honor was Amber Swope, with bridesmaids Beth Leonard and my sister Charlotte. We designed the ceremony ourselves with the help of our minister Penny Greer, a longtime friend of my family. The reception was held at the Best Western Golden Sails hotel, less than a mile away.
Our honeymoon was wonderful: it was a true chance to relax, it was beautiful, and it was fun. We stayed for a week near Lake Louise, in Banff National Park in the Canadian Rockies. To be specific, we stayed at Paradise Lodge and Bungalows, halfway up the road from the town of Lake Louise to the lake itself (and just after the turnoff to Moraine Lake, going up). Our room was a Honeymoon Suite, complete with a small hot tub in the bedroom We've got a lot of photographs of the trip. I've made a webpage to show handful of pictures from the wedding and the honeymoon.
---
Up to Steuard's personal page.
Up to The World of Steuard Jensen.

Any questions or comments? Write to me: steuard@slimy.com
Copyright © 2004-2013 by Steuard Jensen.